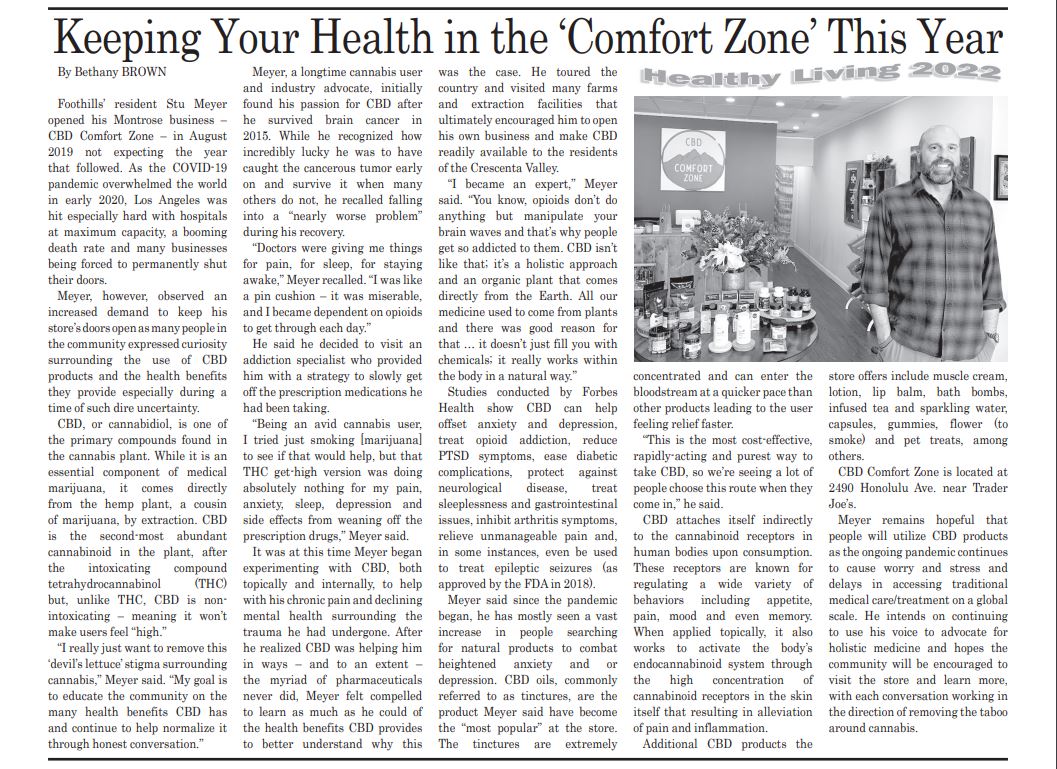 Keeping Your Health in the 'Comfort Zone' This Year
Keeping Your Health in the 'Comfort Zone' This Year 
By Bethany BROWN 
Foothills resident Stu Meyer opened his Montrose business - CBD Comfort Zone - in August 2019 not expecting the year that followed. As the COVID•19 pandemic overwhelmed the world in early 2020, Los Angeles was hit especially hard with hospitals at maximum capacity, a booming death rate and many businesses being forced to permanently shut their doors. 
Meyer, however, observed an increased demand to keep his store's doors open as many people in the community expressed curiosity surrounding the use of CBD products and the health benefits they provide especially during a time of such dire uncertainty.

CBD, or cannabidiol, is one of the primary compounds found in the cannabis plant. While it is an essential component of medical marijuana, it comes directly from the hemp plant, a cousin of marijuana, by extraction. CBD is the second•most abundant cannabinoid in the plant, after the intoxicating compound tetrahydrocannabinol (THC) but, unlike THC, CBD is non-intoxicating - meaning it won't make users feel "high: "I really just want to remove this 'devil's lettuce stigma surrounding cannabis," Meyer said. "My goal is to educate the community on the many health benefits CBD has and continue to help normalize it through honest conversation." 

Meyer, a longtime cannabis user and industry advocate, initially found his passion for CBD after he survived brain cancer in 2015. While he recognized how incredibly lucky he was to have caught the cancerous tumor early on and survive it when many others do not, he recalled falling into a "nearly worse problem" during his recovery.

"Doctors were giving me things for pain, for sleep, for staying awake," Meyer recalled. "I was like a pin cushion - it was miserable, and I became dependent on opioids to get through each day."

He said he decided to visit an addiction specialist who provided him with a strategy to slowly get off the prescription medications he had been taking.

"Being an avid cannabis user, I tried just smoking (marijuana) to see if that would help, but that THC get-high version was doing absolutely nothing for my pain. anxiety, sleep, depression and side effects from weaning off the prescription drugs," Meyer said.

It was at this time Meyer began experimenting with CBD, both topically and internally, to help with his chronic pain and declining mental health surrounding the trauma he had undergone. After he realized CBD was helping him in ways - and to an extent -the myriad of pharmaceuticals never did, Meyer felt compelled to learn as much as he could of the health benefits CBD provides to better understand why this was the case. He toured the country and visited many farms and extraction facilities that ultimately encouraged him to open his own business and make CBD readily available to the residents of the Crescenta Valley.

"I became an expert," Meyer said. "You know. opioids don't do anything but manipulate your brain waves and that's why people get so addicted to them. CBD isn't like that; it's a holistic approach and an organic plant that comes directly from the Earth. All our medicine used to come from plants and there was good reason for that ... it doesn't just fill you with chemicals; it really works within the body in a natural way.

Studies conducted by Forbes Health show CBD can help offset anxiety and depression, treat opioid addiction, reduce PTSD symptoms, ease diabetic complications, protect against neurological disease, treat sleeplessness and gastrointestinal issues, inhibit arthritis symptoms, relieve unmanageable pain and, in some instances, even be used to treat epileptic seizures (as approved by the FDA in 2018).

Meyer said since the pandemic began, he has mostly seen a vast increase in people searching for natural products to combat heightened anxiety and or depression. CBD oils, commonly referred to as tinctures, are the product Meyer said have become the "most popular" at the store. The tinctures are extremely concentrated and can enter the bloodstream at a quicker pace than other products leading to the user feeling relief faster.

'This is the most cost-effective, rapid-acting and purest way to take CBD, so we're seeing a lot of people choose this route when they come in," he said.

CBD attaches itself indirectly to the cannabinoid receptors in human bodies upon consumption. These receptors are known for regulating a wide variety of behaviors including appetite, pain, mood and even memory. When applied topically, it also works to activate the body's endocannabinoid system through the high concentration of cannabinoid receptors in the skin itself that resulting in alleviation of pain and inflammation.

Additional CBD products the store offers include muscle' cream, lotions, lip balms, bath bombs, infused tea and sparkling water, capsules, gummies, flower (to smoke) and pet treats, among others.

 CBDComfort Zone is located at 2490 Honolulu Ave. near Trader Joe's.

Meyer remains hopeful that people will utilize CBD products as the ongoing pandemic continues to cause worry and stress and delays in accessing traditional medical care/treatment on a global scale. He intends on continuing to use his voice to advocate for holistic medicine and hopes the community will be encouraged to visit the store and learn more, with each conversation working in the direction of removing the taboo around cannabis.