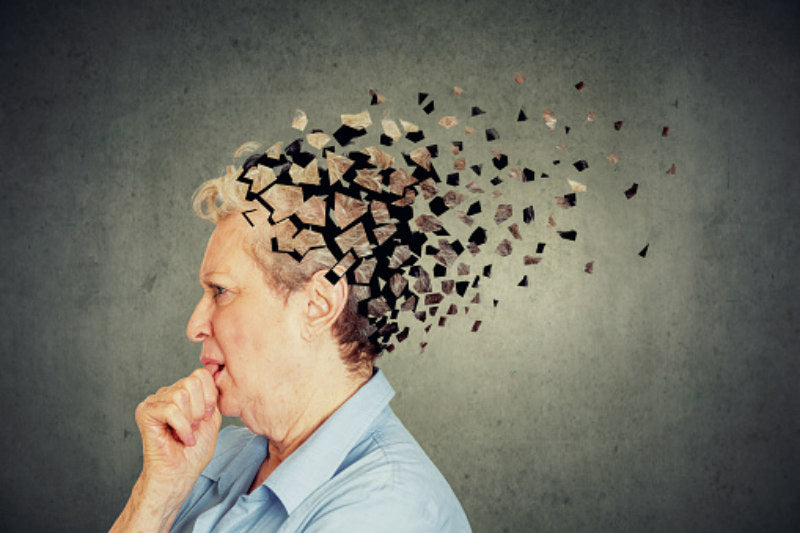 CBD AND ALZHEIMER'S DISEASE
Prevalence of Alzheimer's Disease
Alzheimer's disease is a progressive brain disorder that leads to memory loss and can seriously impair a person's ability to carry out daily tasks. More than 5 million Americans have Alzheimer's according to the National Institutes of Health and scientist expect the cases to triple during the next 50 years. Alzheimer's is the most common cause of dementia and is a leading cause of death.
What is Alzheimer's Disease?
Alzheimer's disease is caused by the buildup of protein (commonly called "plaques") and fiber bundles in the brain, which block neural signals and result in the gradual destruction of nerve cells. Alzheimer's symptoms are the result of brain inflammation. Mild memory loss that worsens into a debilitating condition is the most common symptom. Other symptoms include, disorientation, confusion, mood swings and a steady decline in the ability to communicate.
To date there is no cure and very few options to treat or manage Alzheimer's Disease.  Alzheimer's patients and their loved ones often feel helpless and frustrated as the disease progresses in front of their eyes. New methods for effectively managing this devasting, degenerative neurological disease is critically needed.
CBD and Alzheimer's – Current Research Findings
Research studying the effects of Cannabis on Alzheimer's Disease continues to expand and early studies show great promise.
Several studies suggest that cannabinoids may protect the nerves associated with Alzheimer's symptoms.  The Salk Institute's 2016 study strengthened preliminary evidence, finding that (THC) and other cannabinoids (including CBD) can reduce protein build up on nerve cells associated with Alzheimer's Disease. They also found that cannabinoids reduced brain inflammation. This research is extremely encouraging, yet there is no conclusive evidence that CBD can stop, prevent or slow the progression of dementia.
However, CBD has been shown to be effective in treating some of the most common behavioral symptoms of the disease, such as mood swings, agitation, and aggression. Inflammation is the primary cause of these symptoms. When inflammation occurs in the brain, oxygen in the brain decreases. Reduced oxygen affects brain functions, such as memory. The greater the inflammation, the greater the negative impact. CBD is an antioxidant, which helps reduce the problems associated with reduced oxygen. Brain functions impacted by decreased oxygen may be improved by using CBD.
One of the most promising studies1 was conducted by an Israeli team and shared in 2019. It was a phase II randomized, double-blind, placebo-controlled study, to determine the safety and effectiveness of whole plant CBD-rich oil for treating Alzheimer's-related agitation. 72% of patients treated with CBD-rich oil (compared to 30% of the placebo group) achieved relief from dementia-induced agitation. The authors concluded that CBD-rich oil is a safe treatment that can reduce agitation and other adverse behavioral symptoms in patients with dementia.
These and other studies have produced evidence of the neuroprotective properties of cannabis compounds. For this reason, medical researchers continue to explore the viability of CBD oil for Alzheimer's and other forms of dementia.
CBD To Manage Alzheimer's Symptoms
Family members and care-workers are increasingly turning to CBD as a strategy to manage aggression, agitation, anxiety, and other disruptive behaviors.
There is a growing amount of scientific evidence and a significant amount of antidotal evidence that CBD is practical option for treating the behavioral symptoms associated with various forms of dementia and can considerably improve a patient's quality of life.
CBD oils, taken either sublingually (under the tongue) or orally (in capsule form) are the most effective options for managing anxiety and agitation. CBD teas and gummies are also effective ways of consuming CBD and are often more gratifying for those with Alzheimer's.
The good news is that there are no downsides. CBD has no notable side effects and does not have counter-indications with most medicines. It is always recommended that you purchase CBD products from a reputable retailer. Select CBD products that are extracted from US grown organic hemp, have less than 3% THC and have been lab-tested (ask to see the product's COA or certificate of analysis) to ensure its quality.
If you have any questions, we are here to answer them. Contact www.cbdcomfortzone.com and "ask Stu" – Founder and CBD expert.